Lexus NX: Headlight aim
Vertical movement adjusting bolts
Type A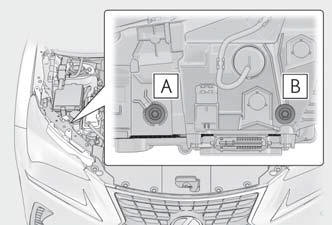 Adjustment bolt A
Adjustment bolt B
Type B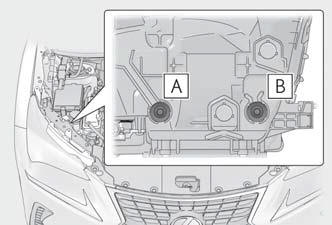 Adjustment bolt A
Adjustment bolt B
Before checking the headlight aim
Make sure the vehicle has a full tank of gasoline and the area around the headlight is not deformed.
Park the vehicle on level ground.
Make sure the tire inflation pressure is at the specified level.
Have someone sit in the driver's seat.
Bounce the vehicle several times.
Adjusting the headlight aim
1. Using a Phillips-head screwdriver, turn bolt A in either direction.
Remember the turning direction and the number of turns.
Type A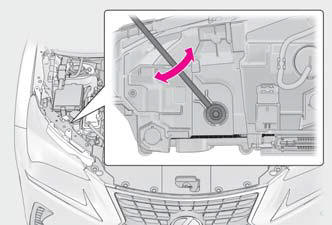 Type B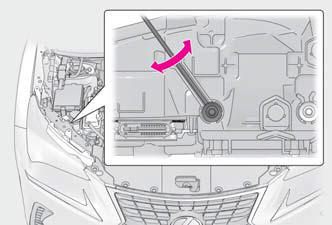 2. Turn bolt B the same number of turns and in the same direction as step 1.
If the headlight cannot be adjusted using this procedure, take the vehicle to your Lexus dealer to adjust the headlight aim.
Type A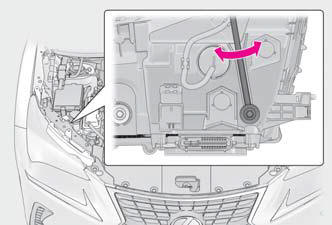 Type B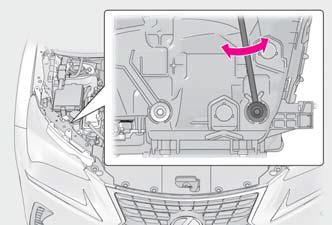 READ NEXT:
You may replace the following bulbs by yourself. The difficulty level of replacement varies depending on the bulb. If necessary bulb replacement seems difficult to perform, contact your Lexus
Emergency flashers The emergency flashers are used to warn other drivers when the vehicle has to be stopped in the road due to a breakdown, etc. Operating instructions Press the switch. All
SEE MORE:
PARTS LOCATION ILLUSTRATION *1 ENGINE ROOM RELAY BLOCK - AM2 FUSE - - ILLUSTRATION *A w/o Power Back Door System *B w/ Power Back Door System *1 BACK DOOR LOCK ASSEMBLY *2 BACK DOOR LOCK ASSEMBLY *3 BACK DOOR OPENER SWITCH ASSEMBLY *4 FRONT DOOR COURT
DESCRIPTION This circuit is used when the voice switch of the steering pad switch assembly is pushed. Using this circuit, the radio and display receiver assembly sends signals to the stereo component amplifier assembly. WIRING DIAGRAM PROCEDURE 1. CHECK HARNESS AND CONNECTOR (RADIO RECEIVER A
© 2016-2023 Copyright www.lexunx.com