Lexus NX: Air conditioning filter
The air conditioning filter must be changed regularly to maintain air conditioning efficiency.
Removal method
1. Turn the power switch off.
2. Open the glove box. Slide off the damper.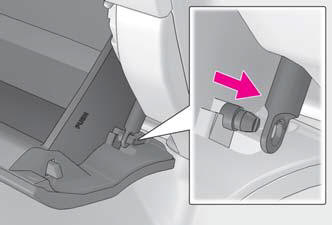 3. Push in the glove box on the vehicle's outer side to disconnect the claws. Then pull out the glove box and disconnect the lower claws.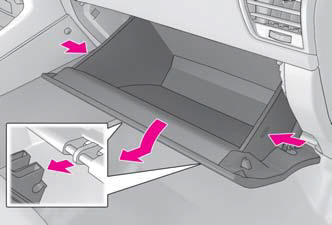 4. Remove the filter cover.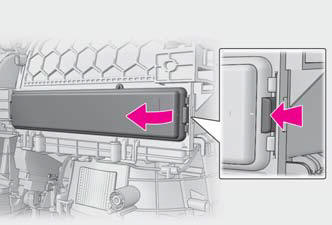 5. Remove the air conditioning filter and replace it with a new one.
The "

UP" marks shown on the filter should be pointing up.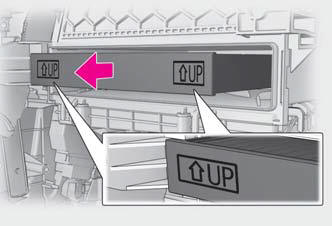 ■Checking interval Inspect and replace the air conditioning filter according to the maintenance schedule.
In dusty areas or areas with heavy traffic flow, early replacement may be required.
(For scheduled maintenance information, please refer to the "Owner's Manual Supplement" or "Scheduled Maintenance".)
■If air flow from the vents decreases dramatically The filter may be clogged. Check the filter and replace if necessary.
■Air conditioning filter with deodorizing function When fragrances are placed in your vehicle, the deodorizing effect may become significantly weakened in a short period: When an air conditioning odor comes out continuously, replace the conditioning filter.
NOTICE
■When using the air conditioning system Make sure that a filter is always installed.
Using the air conditioning system without a filter may cause damage to the system.
READ NEXT:
Replace the battery with a new one if it is depleted. ■When the card key battery needs to be replaced (if equipped) The battery for the card key is available only at Lexus dealers. Your Lexus d
If any of the electrical components do not operate, a fuse may have blown. If this happens, check and replace the fuses as necessary. Checking and replacing fuses 1. Turn the power switch off.
Vertical movement adjusting bolts Type A Adjustment bolt A Adjustment bolt B Type B Adjustment bolt A Adjustment bolt B Before checking the headlight aim Make sure the veh
SEE MORE:
REMOVAL PROCEDURE 1. REMOVE CENTER BACK DOOR GARNISH Click here 2. REMOVE BACK DOOR SIDE GARNISH LH Click here 3. REMOVE BACK DOOR SIDE GARNISH RH Click here 4. REMOVE BACK DOOR FINISH COVER LH (w/o Power Back Door) Click here 5. REMOVE BACK DOOR FINISH COVER RH (w/o Power Back Door) Cli
ComponentsCOMPONENTS ILLUSTRATION *1 FAN AND GENERATOR V BELT *2 REAR ENGINE UNDER COVER RH On-vehicle InspectionON-VEHICLE INSPECTION PROCEDURE 1. INSPECT FAN AND GENERATOR V BELT (a) Check the fan and generator V belt for wear, cracks or other signs of damage. If any of the follo