Lexus NX: Electronic key battery
Replace the battery with a new one if it is depleted.
■When the card key battery needs to be replaced (if equipped) The battery for the card key is available only at Lexus dealers. Your Lexus dealer can replace the battery for you.
■If the electronic key battery is depleted
The following symptoms may occur:
The smart access system with push-button start and wireless remote control will not function properly.
The operational range will be reduced.
Items to prepare
Prepare the following before replacing the battery:
Flathead screwdriver
Lithium battery CR2032
■Use a CR2032 lithium battery
Batteries can be purchased at your Lexus dealer, local electrical appliance shops or camera stores.
Replace only with the same or equivalent type recommended by the manufacturer.
Dispose of used batteries according to the local laws.
Replacing the battery
1. Take out the mechanical key.
2. Remove the cover.
To prevent damage to the key, cover the tip of the flathead screwdriver with a tape.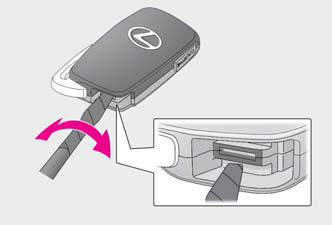 3. Remove the depleted battery.
Insert a new battery with the "+" terminal facing up.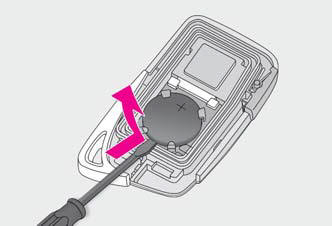 WARNING
■Removed battery and other parts These parts are small and if swallowed by a child, they can cause choking. Keep away from children. Failure to do so could result in death or serious injury.
NOTICE
■For normal operation after replacing the battery Observe the following precautions to prevent accidents:
READ NEXT:
If any of the electrical components do not operate, a fuse may have blown. If this happens, check and replace the fuses as necessary. Checking and replacing fuses 1. Turn the power switch off.
Vertical movement adjusting bolts Type A Adjustment bolt A Adjustment bolt B Type B Adjustment bolt A Adjustment bolt B Before checking the headlight aim Make sure the veh
You may replace the following bulbs by yourself. The difficulty level of replacement varies depending on the bulb. If necessary bulb replacement seems difficult to perform, contact your Lexus
SEE MORE:
COMPONENTS ILLUSTRATION *1 FRONT DOOR INSIDE HANDLE BEZEL PLUG LH *2 FRONT DOOR TRIM BOARD SUB-ASSEMBLY LH *3 FRONT DOOR TRIM COVER LH *4 OUTER MIRROR INSTALL HOLE COVER LH *5 OUTER REAR VIEW MIRROR ASSEMBLY LH *6 POWER WINDOW REGULATOR MASTER SWITCH ASSEMBLY WITH FRONT
INSPECTION PROCEDURE 1. INSPECT TRIP SWITCH *1 ODO TRIP Switch *a Component without harness connected (Trip Switch) (a) Check the resistance. Measure the resistance according to the value(s) in the table below. Standard Resistance: Tester Connection Switch Condition Specified