Lexus NX: Do-it-yourself service precautions
If you perform maintenance by yourself, be sure to follow the correct procedure as given in these sections.
Maintenance
Items
Parts and tools
12-volt battery condition

Grease
Conventional wrench (for terminal clamp bolts)

Brake fluid level

FMVSS No.116 DOT 3 or SAE J1703; FMVSS No.116 DOT 4 or SAE J1704 brake fluid
Rag or paper towel
Funnel (used only for adding brake fluid)

Engine/power control unit coolant level
Engine oil level

"Toyota Genuine Motor Oil" or equivalent
Rag or paper towel
Funnel (used only for adding engine oil)

Fuses
Fuse with same amperage rating as original
Light bulbs
Bulb with same number and wattage rating as original
Headlight aim
Phillips-head screw-driver
Radiator and condenser

-

Tire inflation pressure

Tire pressure gauge
Compressed air source

Washer fluid

Water or washer fluid containing antifreeze (for winter use)
Funnel (used only for adding water or washer fluid)
WARNING
The engine compartment contains many mechanisms and fluids that may move suddenly, become hot, or become electrically energized. To avoid death or serious injury, observe the following precautions.
■When working on the engine compartment
Make sure that the "IGNITION ON" on the multi-information display and the "READY" indicator are both off.
Keep hands, clothing and tools away from the moving fan and engine drive belt.
Be careful not to touch the engine, power control unit, radiator, exhaust manifold, etc. right after driving as they may be hot. Oil and other fluids may also be hot.
Do not leave anything that may burn easily, such as paper and rags, in the engine compartment.
Do not smoke, cause sparks or expose an open flame to fuel. Fuel fumes are flammable.
■When working near the electric cooling fans or radiator grille Be sure the power switch is off.
With power switch in ON mode, the electric cooling fans may automatically start to run if the air conditioning is on and/or the coolant temperature is high.
■Safety glasses Wear safety glasses to prevent flying or falling material, fluid spray, etc. from getting in your eyes.
NOTICE
■If you remove the air cleaner filter Driving with the air cleaner filter removed may cause excessive engine wear due to dirt in the air.
Hood
Opening the hood
1. Pull the hood lock release lever.
The hood will pop up slightly.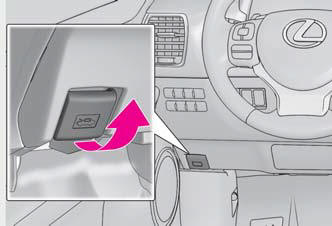 2. Pull up the auxiliary catch lever and lift the hood.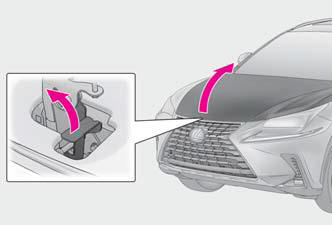 WARNING
■Pre-driving check Check that the hood is fully closed and locked.
If the hood is not locked properly, it may open while the vehicle is in motion and cause an accident, which may result in death or serious injury.
Positioning a floor jack
When using a floor jack, follow the instructions in the manual provided with the jack and perform the operation safely.
When raising your vehicle with a floor jack, position the jack correctly.
Improper placement may damage your vehicle or cause injury.
Location of the jack point
■ Front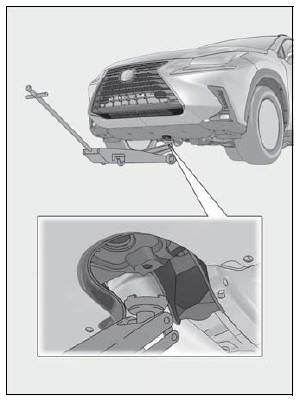 ■ Rear
1. Remove the bolt A and then remove the cover B.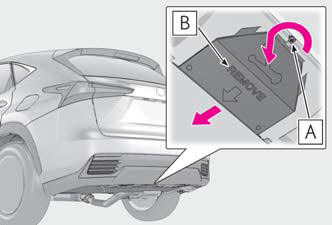 2. Rise your vehicle with a floor jack.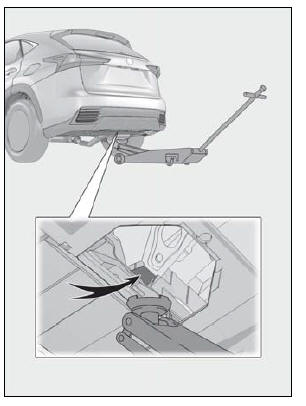 READ NEXT:
Components Fuse box Engine coolant reservoir Engine oil filler cap Power control unit coolant reservoir Brake fluid reservoir Radiator Condenser Electric cooling fans Engine oi
Location The 12-volt battery is located in the left-hand side of luggage compartment. ■Before recharging When recharging, the 12-volt battery produces hydrogen gas which is flammable and exp
Replace or rotate tires in accordance with maintenance schedules and treadwear. Checking tires Check if the treadwear indicators are showing on the tires. Also check the tires for uneven wear, s
SEE MORE:
REMOVAL PROCEDURE 1. PRECAUTION NOTICE: After the power switch is turned off, there may be a waiting time before disconnecting the negative (-) auxiliary battery terminal. Click here 2. REMOVE NO. 3 DECK BOARD SUB-ASSEMBLY Click here 3. REMOVE REAR DECK FLOOR BOX Click here 4. REMOVE DECK FLOO
The vehicle has an electronic keyless ignition with pushbutton start. The RKE transmitter must be in the vehicle for the system to operate. If the vehicle is not working, the vehicle may be near a strong antenna signal causing interference to the Keyless Access system. See Remote Keyless Entry (R